This guide will explain how you can try multiple methods to unlock grayed out menus in Excel.
Some users will encounter grayed out options or menu items when using Microsoft Excel. We will explore why these options may be unavailable in different situations.
Let's take a look at a quick example of a scenario where you may encounter grayed out menus in Excel.
Suppose you have received an Excel worksheet from another user. You find out that you can't make any edits to any cells in the sheet. You also observe that the menus in the top ribbon have also been grayed out. 
The file you have just received may contain a protected worksheet. When a user protects a worksheet, Excel will lock all cells from editing. In order to edit the sheet yourself, you will have to unlock the sheet using a valid password.
This situation is just one possible reason why your menus are grayed out. This guide will explore the most common reasons why editing cells is not possible and how you can unlock them.
In the next section, we'll take a look at how a grayed out menu looks like on an actual sample spreadsheet. 
A Real Example of Unlocking Grayed Out Menus in Excel 
Let's take a look at a real example of a spreadsheet with grayed out menu items.
In the example below, we have a spreadsheet where the menu options in the Home tab are grayed out. The user cannot currently make edits to the current cell such as applying new formatting.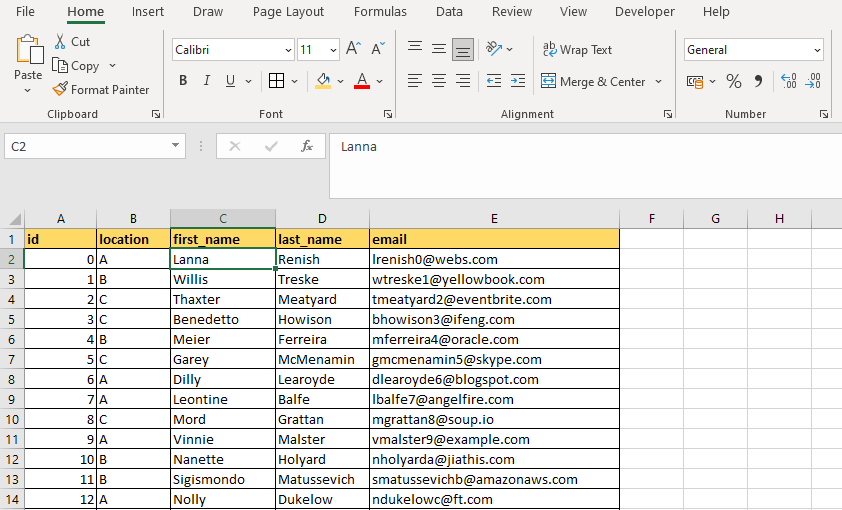 The solution for this example is to hit the Enter key to escape the Edit mode. Another reason the menu options are unavailable is that the user is working on a protected worksheet.
The link attached below is an example of an Excel workbook with a protected worksheet. 
If you're ready to try out the best methods to unlock grayed out menus in Excel, follow our guide in the next section!
How to Unlock Grayed Out Menus in Excel 
This section will guide you through each step needed to start unlocking grayed out menus in Excel. 
You may encounter grayed out menus in Excel when editing the contents of a cell. In the example below, the user is currently editing the contents of cell

C2

.

While the cell is being edited, all menu options are grayed out.



Press the

Enter key on your keyboard after editing. You should now be able to access the unlocked menus in the ribbon.

If your menus are locked, you may have a sheet with protection. Users on a protected sheet cannot make any adjustments. Any attempt to perform any actions may lead to an error dialog box similar to the one seen below.



To unprotect your worksheet, head to the

Review

tab and click on the

Unprotect Sheet option. If the sheet is password-protected, you will be required to provide the necessary password. After unprotecting the sheet, the grayed out menus should now be unlocked and ready to use again.


If you encounter grayed out menus when trying to edit sheet-level properties, your workbook may be protected. A protected workbook allows you to prevent the moving, hiding, and deletion of worksheets. For example, users cannot insert, move, or rename worksheets if they are in a protected workbook.



To remove workbook protection, click on the

Protect Workbook

option in the

Review

tab. To unlock the document, simply type the appropriate password and press the

OK button in the pop-up dialog box.

Right-clicking on the sheet tabs should now show that all options are now unlocked and available to the user.



If the above steps did not succeed in unlocking the unavailable menu items, you might have to change a few settings in the

Advanced options menu in Excel.



Under the

File

tab, click on

Options. It should be located on the bottom-left corner of the Excel screen.



In the

Excel Options

window, click on

Advanced.

Find the section labeled

Display options for this workbook

.

Make sure that the option

All

is selected.

Afterward, click

OK to apply the new settings.

Frequently Asked Questions (FAQ)
Why are some options grayed out when opening a file in compatibility mode?


Compatibility mode allows you to open older files in the latest version of Microsoft Excel. Some menu choices will be grayed out to indicate that the feature is not compatible with the file type. For example, some features may not be applicable when opening a Microsoft 2003 file in compatibility mode. To unlock these options, you must convert the file to the latest Excel file format.
These methods should be all you need to remember to unlock grayed out menus in Excel. This guide has shown how to handle unavailable menu items in various situations, including working with protected sheets and workbooks.
This guide is just one of many useful Excel tutorials that you can follow to help with your workbook issues. With so many other Excel features available, you can surely find one that solves your issues.
Interested in learning more about what Microsoft Excel can do? Make sure to subscribe to our Sheetaki newsletter to be the first to know about the latest guides and tutorials from us.